Motorcycle Insurance Quote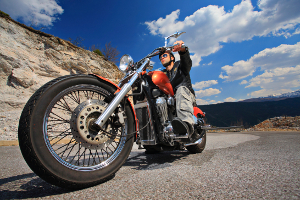 Here at CCS Insurance, we want to help get your motorcycle on the road – safely! If you're looking for insurance coverage for your motorcycle, you've come to the right place. We work with multiple providers who can instantly cite motorcycle insurance quotes, allowing you to compare and choose the best, most affordable option for you. We understand that no one policy is right for everyone, and we pride ourselves on giving our customers the flexibility to make decisions for themselves. That is why in addition to our online quote system, we can also help you find a local agent for more personalized service. Let us help you find the right coverage at the right price.
Motorcycle Insurance Coverage
The type of motorcycle insurance required differs from state to state; CCS Insurance has enough options not only to fulfill state laws, but also to make you feel comfortable when you hit the road. These plans include basic liability insurance, which protects you from paying the other driver's expenses when you're at fault, comprehensive coverage, which insures your own motorcycle in an accident, and a number of more specific options that cover anything from reimbursing your totaled bike, paying for medical fees, and motorcycle towing. Learn more about the kinds of policies we offer and the rates that will apply to you by starting your quote or speaking with a local agent.
Motorcycle Insurance Discounts
Looking to save money on motorcycle insurance? If the cost of motorcycle insurance seems almost prohibitive, you're in luck - CCS Insurance can match you up with a variety of discounts. You can qualify for some of these savings without having to move a muscle. If you have an excellent driving record or if you're a homeowner, ensuring multiple vehicles on one policy, or signing up with a group of friends, substantial savings will come your way. And for those willing to put in the extra mile, there are discounts available for completion of a safety course, installing a recovery device and antilock breaks on your bike, and paying your premium in full. Discover all of the ways to save on motorcycle insurance through our extensive list of discounts.
Motorcycle Insurance Rating
4.75
/5 based on
2
reviews





Motorcycle Insurance Articles
5 Ways to Save on Motorcycle Insurance